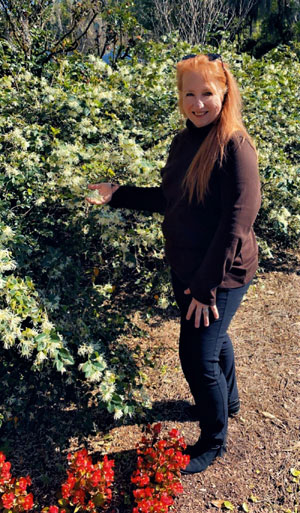 Teresa Watkins
Better Lawns and Gardens, Florida's only statewide gardening show, is highly targeted to both long-time enthusiasts and first-time gardeners. Airing for more than 30 years, this weekly program, hosted by gardening expert, landscape designer, and author Teresa Watkins, runs all year long. Every week, the phone lines are jammed with callers seeking gardening help.
Teresa is a walking encyclopedia of horticultural knowledge and you would be hard pressed to find a gardening question she can't answer. Better Lawns & Gardens is a Saturday morning listening tradition for Florida gardeners.
Teresa designed the landscape for the first certified "green home" in Florida in 2001. In the last 20 years, over 37,000 homeowners have attended Teresa's landscaping talks and programs. Her garden talks range from the ABC's of landscaping to theme landscapes of fairy gardens to xeriscaping. Ms. Watkins's humor grabs her audience's attention with easily understood landscaping principles. She instills an appreciation for the environment — with her "gardening with soul" philosophy — while encouraging everyone that they can have a beautiful yet sustainable, low-maintenance yard.
Affiliates can air the program live on Saturdays from 7am-9am, or delay broadcasts using their XDS receiver or downloading from FNN OnDemand.
Technical and clock info:
Length: Two Hours
Live Feed Saturdays 7:06AM – 8:59:50AM
XDS Programs: "Better Lawns & Gardens Hr 1", Better Lawns & Gardens Hr 2"
Also available for download from FNN OnDemand
7 minutes of avails for local sale
Download the broadcast clock

Subscribe to the Better Lawns & Gardens podcast

For more information please contact: Affiliate Relations Director Jeff Worthington - (866)-304-6397 – JeffWorthington@fnnonline.net